"I actually liked being Omega."
—Sunshine about being Omega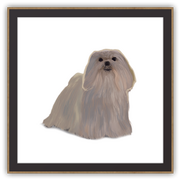 '
Personality
Edit
Though at first reserved with the wild and highly pampered, Sunshine adapts to the wild if she wants to.
Special Skills
Edit
Strong sense of smell.
Sunshine joins Lucky's Pack when she and her packmates meet Lucky in a longpaw mall.
Coming soon
When Alpha casts Lucky out of the pack, Sunshine is Omega into take his place.
All information (including picture and quote) not from History came from Sunshine's Official Page.